Schools  Programme "Bodhivriksha"
The charity's education project is called Bodhivriksha meaning "Tree of Knowledge"; each school is a branch of the tree. The twelve branches provide education for over 500 children and are funded entirely by charitable donations.
Advaita Garden School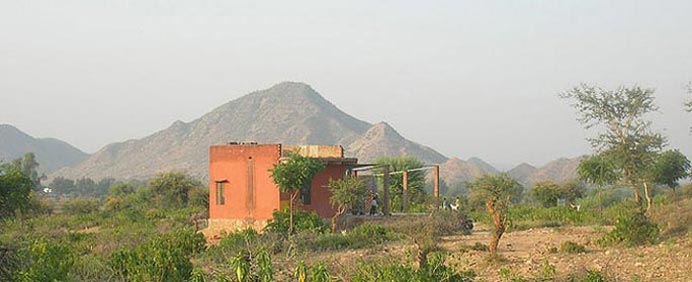 Situated at the base of the Aravali Mountains in Rajasthan is a plot of land known as Advaita Garden. This is the headquarters of the children's education programme and home of the main school Bodhivriksha Pratam Shakar, "First branch of the Tree of Knowledge".
The school is a fifteen minute journey into the countryside just outside the city of Alwar. Over 180 children are enrolled from the nearby villages of Hajipur, Dhani and Dadikar.
Advaita Gardens from 2001 to today
When the school was founded in 2001 it consisted of one room serving as a classroom, office and headquarters of the education project.
For three years classes sheltered in whatever shade was available under trees and makeshift canopies giving protection from the heat of the sun.

During the past two years three new classrooms have been built plus another room which serves as an office, classroom and accommodation space; the original one classroom has also been expanded to provide space for two more classes.

In addition to the new classrooms the school also has a cowshed (gaushala), which is home to more than twenty cows.  In the future their manure will provide gobar gas to be used for cooking.

 
 

These changes are reflected in the living conditions.

Five years ago water was pumped up by hand from the well, food cooked over an open fire, sanitary conditions were basic to say the least – a hole in the ground – and there was no electricity.

Now, water is still drawn from the well but it is pumped up by a generator powered by an electricity supply and piped to the new cowshed and the new school kitchen which boasts a gas ring powered by bottled gas. Two flush toilets (Western) and two Indian toilets have been built and – luxury of luxuries – there is also a shower.

 
The children look with awe at this luxury. In their villages water comes from a hole in the ground. They carry it to their homes. They wash themselves and their clothes and pots on the ground. Their cooking is done over an open fire as we did at the school previously.
The other schools
The charity runs a school in the slum area of Alwar city and ten other schools in Nat and Kanjer villages in a wide area of the surrounding countryside.
These smaller village schools are mainly single class schools catering for around thirty children with one teacher responsible for children of all ages, from four years to fourteen. Despite this no child is left out. No child remains unstretched and there is a great effort to meet every child's needs.
The children are encouraged to help each other and take a great delight in doing so. They may not have much equipment but it is impressive and humbling to see how they use what they have got.